Tabletop Prize Wheel (12 to 24 Slot)
$349.99
Special Offer Expires 09/30/2023 Regular price: $413.50
OUR LATEST PRIZE WHEEL! 12 TO 24 SLOTS ON EACH WHEEL!
The most versatile of all interactive games is the Prize Wheel. The 12 to 24 Slot Adaptable Tabletop Prize Wheel is an absolute crowd pleaser! This game wheel attracts a crowd for any office meeting, trade show, annual sales meeting, on-location radio broadcast, wedding, carnival, fundraiser, or outdoor event. The prize wheel is especially designed to allow party planners to create fun and creativity that is unique to their event setting.

The 12 to 24 Slot Prize Wheel allows you to select any number of prize cards between 12 and 24.
The Black Tabletop Clicker Prize Wheel is lightweight and can be easily transported in our Prize Wheel Carrying Case or Prize Wheel Travel Case.
Assembly is easy with a sturdy tripod style stand made of high quality powder-coated steel. All of our black wheels are made of a combination of extra tough ABS plastic and durable PETG plastic. The clicker itself is made of virtually unbreakable nylon plastic, able to withstand thousands of spins.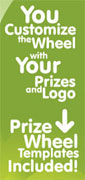 The Black Clicker Floor Model Features:
A combination of tough ABS plastic and durable PETG plastic
A pointer that "clicks" between each slot - 24 clicks per rotation
Customizable prize slots and a center plate for logo or text
Templates in Microsoft Word and Adobe Illustrator
Easy assembly with tripod style stand
Product Weight: 11.5 lbs.
Product Dimensions: 31" W x 41" H x 16 1/2" D
This product ships within 1-2 business days of order placement. To add same day shipping (on order received before 12 P.M. EST), click here.