Floor & Table Black Clicker Prize Wheel (18 Slot) with Carrying Case
$459.99
Special Offer Expires 12/31/2022 Regular price: $668.99
Two Wheel In One!
Wheel Can Be Used as a Floor or Table Wheel!
The 18-Slot Black Floor Clicker Prize Wheel is fun to spin and win! Use it a trade show and draw a crowd. Create a fun game for everyone at your next annual meeting, birthday party, wedding or bar/bat mitzvah.. Celebrate a co-worker's birthday or anniversary. Bring it with you when you meet with clients or customers.
The tripod's detachable legs convert the floor model into a table top model. The 18-Slot Floor Black Clicker is also lightweight and can be easily transported in our Prize Wheel Carrying Case or Prize Wheel Travel Case.
The Wheel features 18 customizable prize slots and center plate for logo or text. The clicking sound builds excitement as it spins!
Assembly is easy with a durable tripod style stand made of high quality powder-coated steel. All of our black wheels are made with durable PETG plastic. The clicker itself is made of virtually unbreakable nylon plastic, able to withstand thousands of spins.
The Black Clicker Floor Prize Wheel Features: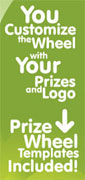 Durable PETG plastic
A pointer that "clicks" between each slot - 18 clicks per rotation
18 customizable prize slots and a center plate for logo or text
Templates in Microsoft Word and Adobe Illustrator
Easy assembly with tripod style stand
Product Weight: 14 lbs.
Product Dimensions: 31"W x 74 "H x 34 "D
Cases include:
Bottom padding to cushion your Prize Wheel
Outside zippered pocket for hardware and accessories
Adjustable shoulder strap
Rugged construction (made of 600 denier textured nylon)
This lightweight case is sized to fit your Prize Wheel (measures 32" x 42") and weighs less than five pounds. Case folds up for easy storage.
This product ships within 1-2 business days of order placement. To add same day shipping (on order received before 12 P.M. EST), click here.